The new generation of Intel® processors
Redefine performance with 4th Gen Intel® Xeon® Scalable Processors, featuring built-in accelerators to improve performance across the fastest-growing workloads in AI, analytics, networking, storage, and HPC.

4th Gen Intel® Xeon® Scalable Processor
Benefits of 4th Gen Intel® Xeon® Scalable Processors
AI acceleration
Al gets even better with the all-new Intel® Advanced Matrix Extensions (Intel® AMX), delivering exceptional Al training and inference performance through accelerated matrix multiply operations.
Efficiencies in utilization and power utilization
By making the best use of CPU core
resources, built-in accelerators can result in more efficient utilization and power
efficiency advantages, helping businesses achieve their sustainability goals.
High performance
Seamlessly integrated accelerators speed up data movement and compression for faster networking, boost query throughput for more responsive analytics, and offload scheduling and queue management to dynamically balance loads across multiple cores.
Enhanced security
Intel® Software Guard Extensions (Intel® SGX) and other security features help bring a zero-trust security strategy to life while unlocking new opportunities for business collaboration and insights – even with sensitive or regulated data.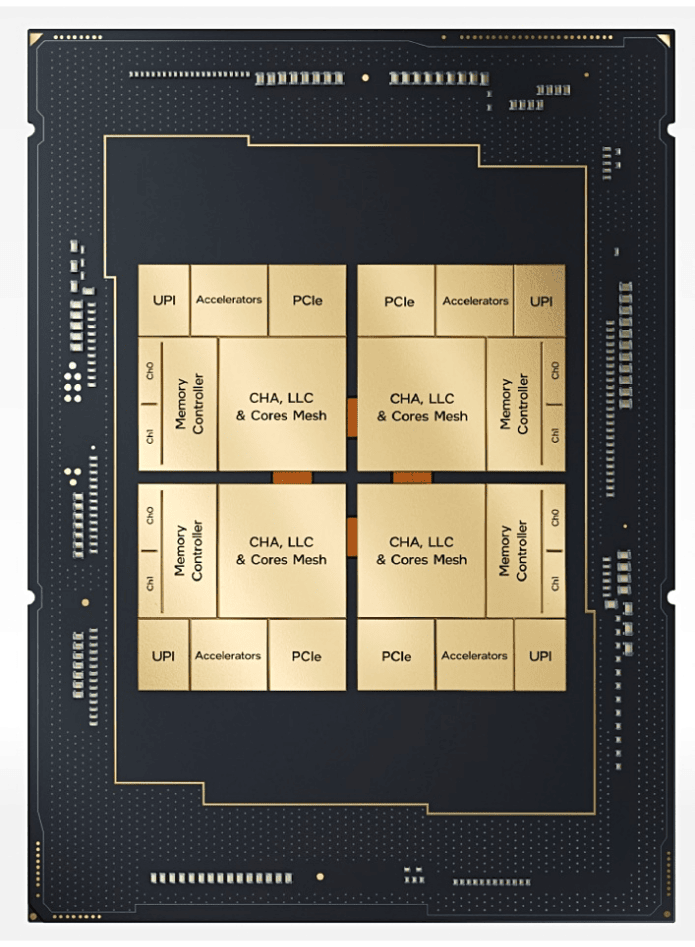 Built-In Accelerators & Security
Built-in accelerators provide value for variety of workloads
5G vRAN
5G CORE/UPF
Security gateway
Crypto acceleration
Packet processing
Content delivery network
Computational fluid dynamics
Molecular dynamics
Weather simulation
Financial services
AI inference/training
Drug discovery
Recommendation systems
Natural language processing
Image recognition
Object detection
Machine learning Video analytics
In-memory databases
Big data analytics
Data warehousing
Relational databases
High-performance storage
Storage management
Distributed storage / storage appliances
Virtualized storage
Why do we trust Intel?
Stable performance
Intel® Xeon® Scalable Processors provide the industry-leading performance required for our customers' high-load services.
Field expertise
The Intel team helped us understand how to use their products most effectively and test their cutting-edge solutions on real applications and tasks in our data centers.
Cost reduction
The performance gain allowed us to reduce the total number of servers and therefore reduce the cost of operating them.
Cut infrastructure costs and improve the performance of your applications with our Intel-based solutions.
Tell us about your needs
We'll offer an optimal infrastructure and efficient services to solve them.
Talk to an expert