$0

Adaptive bitrate encoding at no cost

140+points of presence

Local and global infrastructure for Streaming, CDN and WebRTC

∞

Removing the limitations and problems of your current solution
Get optimised streaming performance with ease
We cover all technical issues: upload, live ingest, transcode, record, store, process video using machine learning, deliver via CDN, playback.
Happy Clients
From industries
E-commerce
Education
Enterprise
Entertainment
Events
Fintech
Ott & tv
Realtime webcam
Sports
And more...
Features
Live Low Latency Streaming
Live broadcasts for vertical and horizontal videos with low latency anywhere in the world
Adaptive bitrate: any viewer, even with an unstable internet connection, will be able to watch a broadcast
Seamless integration into a web application, website, or online service
Video Hosting
Unlimited storage capacity for UGC or professional videos of any length
Support for all popular standards and formats for transcoding, privacy protection, and playback
VOD upload via API from your application or migration from external storage (e.g., FTP, S3)
Real time video & Group video calls
Real time video conferencing for 1-to-1 or for groups
2-300 participants with presentation mode, joint viewing, moderation
High quality, low latency, without "40 minutes limit" and using your corporate security policies
Computer Vision & Maching Learning
Automatic analysis of UGC videos without complex manual moderation
Video analysis for nudity, o!ensive content, search for specified objects
AI engine for VOD and Live scanning
Ready to get started?
14 days free trial
Geography of
streaming services
Points of video hosting and receiving live streams
CDN points of broadcasting video to end-viewers (total capacity >100 million viewers)
Soon opening points of video hosting and receiving live streams
Soon opening CDN points of broadcasting video to end-viewers
Pricing
You get modern adaptive bitrate encoding at no cost
Accurate calculation only for consumed resources in minutes
If you plan to stream more than 1M minutes per month, please contact our Enterprise Team for discounted pricing
Workflow ready
Video infrastructure as developers see it.
Just use a simple dashboard or integrate your mobile app, website, corporate CMS, other software with SDK and API.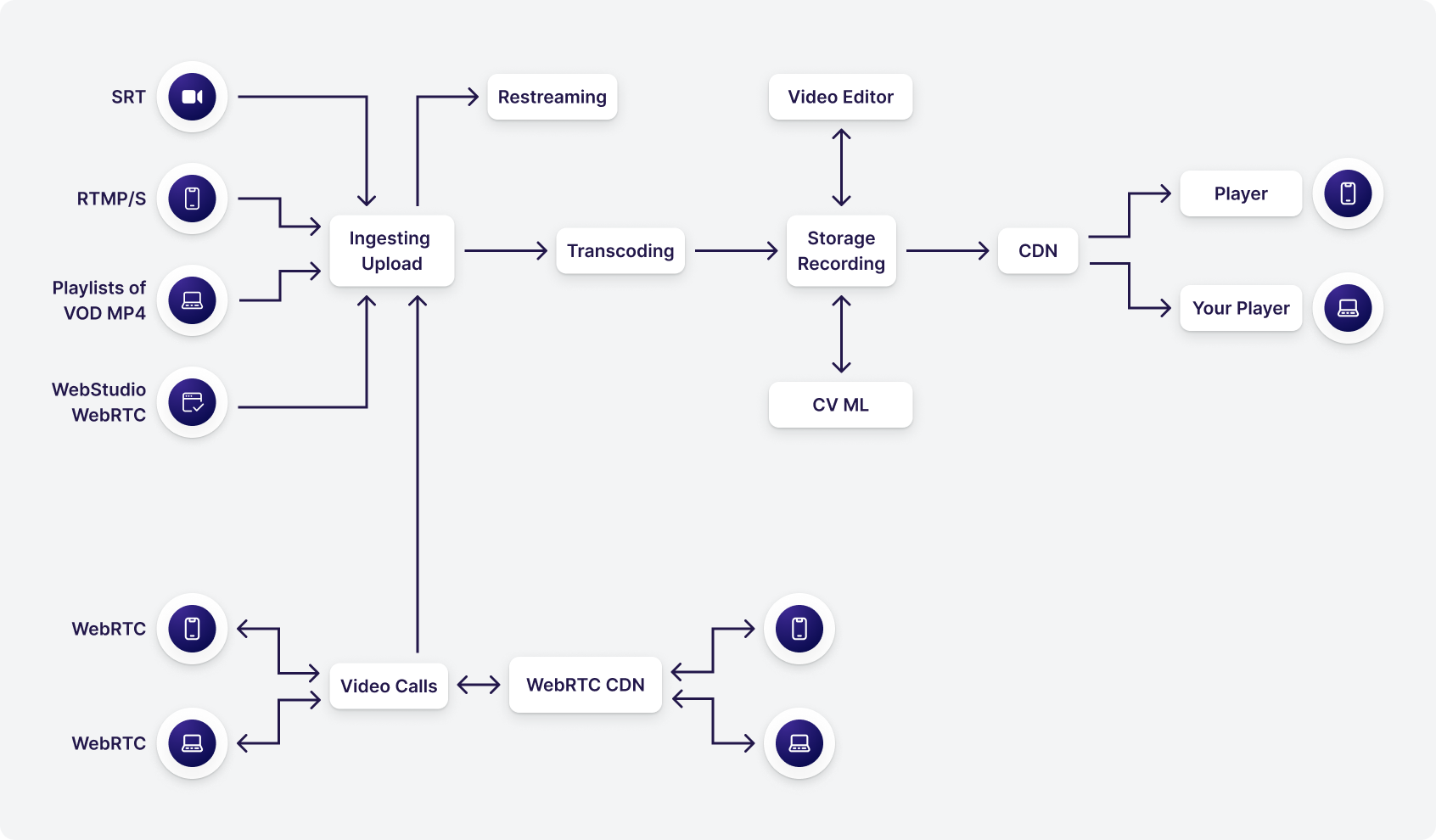 Contact us to get personalized offer
Tell us about the challenges of your business, and we'll help you grow in any country in the world.